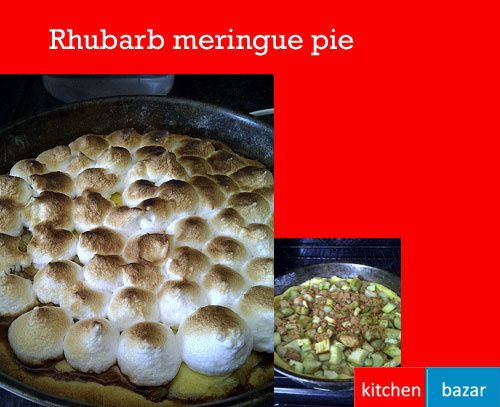 As it is never early enough as Passover starts tomorrow I'll give you a recipe for Rumpelnacht. Rumpelnacht? Whats that ? Mimouna but for the Ashkenazi, happy, loud and sweet. That night we pack up the pessachtig dishes and we bring back the dishes from the Rumpelkammer and then push the chametz in the center of pleasure. On this subject an account of the first sip of beer here
Ingredients for a serving of 4
For the dough
125 g butter
1 egg
1 tablespoon sugar
1 pinch salt
150 g flour
Mix flour, salt and sugar in a food processor then add the butter into small pieces and the egg, let run for a few minutes until dough is a little soft, if necessary add a little flour
Form a ball, chill.
Preheat oven to 185 °C
Ingredients
4 large stalks of rhubarb
1 to 2 tablespoons brown sugar or brown or brown sugar
Peel rhubarb and cut into small cubes sprinkle sugar
Roll out your dough into a deep pie pan add the fruits, bake 10-15 minutes
Ingredients for the custard and meringue
2 tablespoons heavy cream + 1 egg yolk + 1 tablespoon coarse sugar
Keep the white for the meringue add 1 egg white + 50 g icing sugar
Meanwhile mix the cream, sugar and egg yolk, while the pastry is golden add the custard to the pie and cook another 10 to 15 minutes
Put a pot of water on medium heat and begin to mount your egg whites when they are nicely foamed add the icing sugar and heat on to the bain-marie continuing to beat until its' a nice Swiss meringue.
Put the mixture into a pastry bag and shape the meringue as you wish on the pie. Put your oven on grill
Put the pie under the grill. Remove from oven, as soon as its coloured let cool before removing from pan, eat mid-warm or cold.